co-pro
Casting in Uganda: Romeo and Juliet in Kampala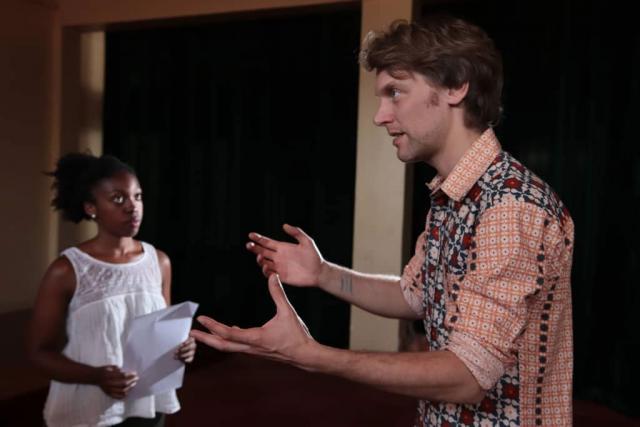 Text by Ssebaggala Andrew Lwanga 
We spent much of yesterday searching for our "Romeo" and "Juliet" for our Ugandan Version of William Shakespeare's classic play "Romeo and Juliet". And in my life, every opportunity for me is for learning.
Well we got an opportunity to get a feel of how "Romeo and Juliet" sounds in some of our local languages like Luganda, Runyoro, Rutooro, Rukiga, Runyankole, and Nigeria's Ibo.
It's amazing how people can best act, come alive, and flow with feelings and emotions naturally in their native language. It blew most of us on the panel.
It was also as if it was a competition of our local dialects in terms of convincing, aggressive, and romantic. Your guess is as good as mine!
Over 70 Uganda artistic talents showed interest in these only 2 roles we had for grabs.
THANK YOU ALL THAT MADE IT YESTERDAY AT OUR AUDITIONS. I thank you for taking the courage, investing time and resources to show up and displaying the best of your talent for the opportunity.
Knowing what auditions are and in many ways analogous to regular JOB INTERVIEWS for those that didn't know and a competition in itself, I give it to you all that came and participated. Am equally glad that, our auditions are not an end in themselves, it was fun seeing our young people free, enjoying the process.
Our generous casting team having Theatre Director Simon Eifeler from Germany, supported by Uganda renowned Theatre Poet Kagayi Ngobi and Actress Pamela Keryeko for Acting; Breakdance Project Uganda's Abrams Tekya for Breakdance/Hip-Hop Dance and Ejuku Hitter Mark for Purcussion/Music and yours truly doing what he does best is organising and coordinating the process as local producer supported by my mentee Ssekate Ivan.
Thank you casting team for giving helpful feedback to the participants for their personal discovery, where they need to put more effort, and where they need to consolidate in developing their talent and artistic skills. That was generous of you.
Some participants definitely were not ready for the auditions or didn't know how serious auditions are. It made me feel we need to help our young talents on how to go about auditions, personal introductions, writing resume or profile. Auditions are JOB interviews that you need to give serious attention to and be ready for any time. They can land you a huge opportunity and for us always on the look out for talents, we keep record of those that stood out for our next project even if one may not make it for this particular one.
The human feeling that we are only taking 2 people for the 2 roles left me wondering what we can do to create more opportunities for the young talents to nurture, expose and eventually benefit from their talents. In the same spirit, encourage the young talents to take every opportunity seriously. Many after getting such opportunities they give up and take it for granted as if doing a favour to whomsoever engaged them in the first plays. This has left Producers or employers wondering!
For those that auditioned, we shall surely get back to you in due course after we conclude our search.
This collaborative production is produced byfred - Freies Ensemble Düsseldorf in co-production with House of Talent - HoT Cultural Performers and Bridgeworks.
Our Photographer on set Brian Magoba, we can't thank you enough. You give us an opportunity to share with the world even as we keep record of such moments that could inspire another talent to try their luck next time.